This design concept centres around the legend of "the angels' share". In whisky distilleries, whilst the product is slowly matured in casks, it is said that the 2% that naturally evaporates each year is "the angels' share" and the liquid is sacrificed to the heavens to ensure a perfect product.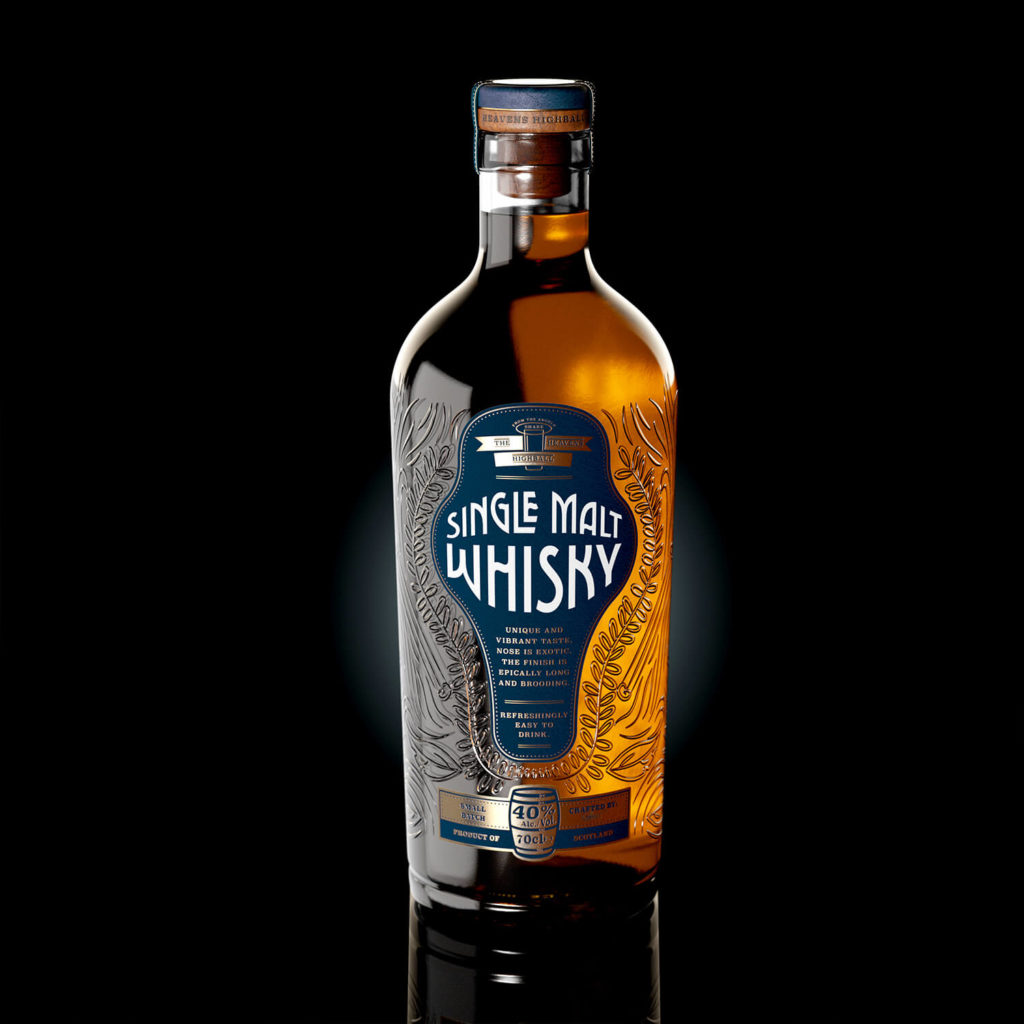 This label and bottle embellishment design partners classic chic colour combinations and an innovative new bottle embossing technique, whilst drawing inspiration from the original legend that inspired it.
Partnering with glass bottle manufacturers O-I, we took our Heavens Highball design from our brand library and transformed the intricate label into a unique embellished pattern that spreads its wings beyond the label and around the bottle.
Originally created with the millennial audience in mind, we wanted to explore a new direction, away from the 'traditional' whisky design routes. In an increasingly crowded market, difference catches the eye.
Designed to be drunk in a highball glass with friends, this brand was centred around the need to stand out in a busy bar.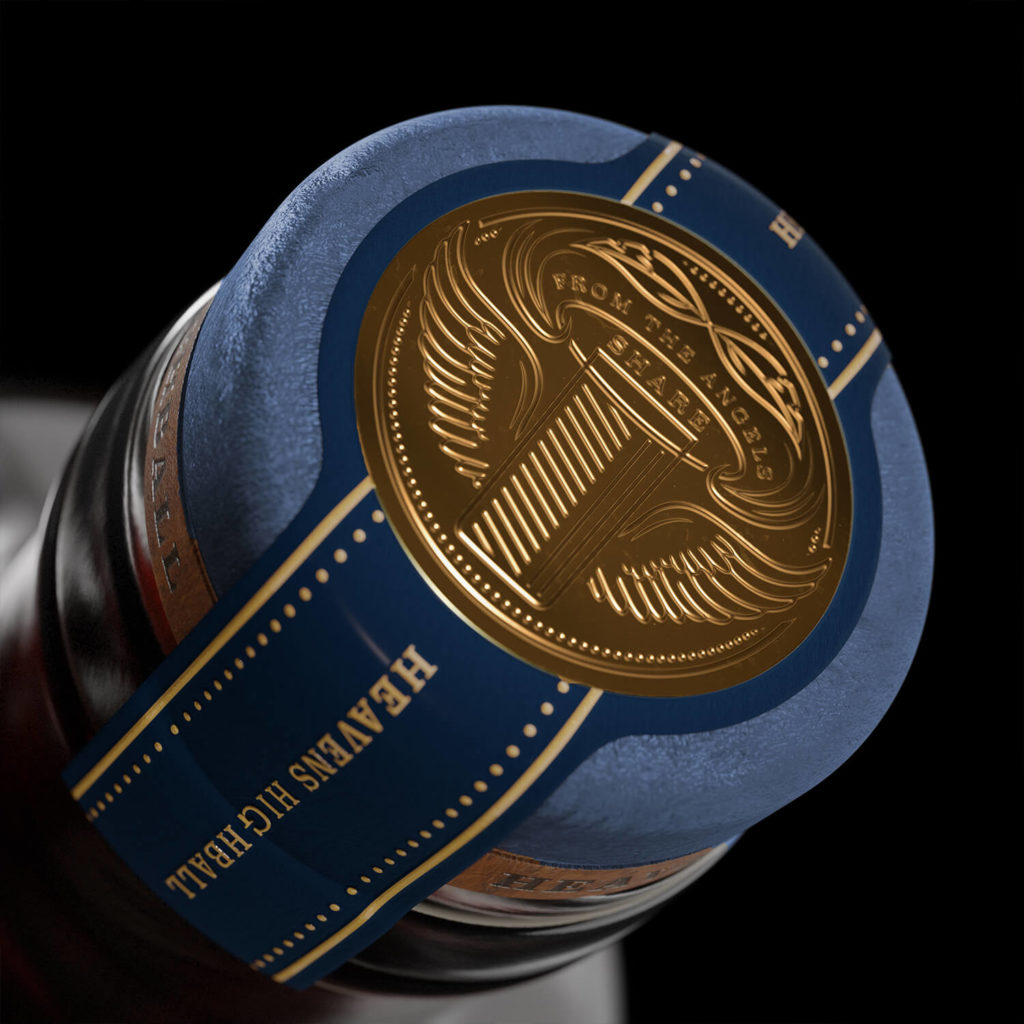 The front label design mimics the shape of an angel's wing, with the colours and delicately foiled illustration reflecting the divine sophistication and heavenly thread of the brand story. The back label tells its own story, harking back to the origins of the angels' share, with its subtle curvature signalling the barrels where the legend began.
Playing into the tale, the logo subtly hints at an angel's halo, with the wings digitally printed on the glass above, extending the illustrations beyond the label and onto the bottle. The innovative bottle embellishment technique, O-I : EXPRESSIONS RELIEF, adds another element to the packaging, with the illustration appearing to stem or 'evaporate' from the barrel at the bottom flowing up to the heavens above.
To bring the design to life before the O-I trial, our 3D renderers worked their magic to produce an array of stunning images which tied the whole concept together, ensuring that the design translated from label to bottle.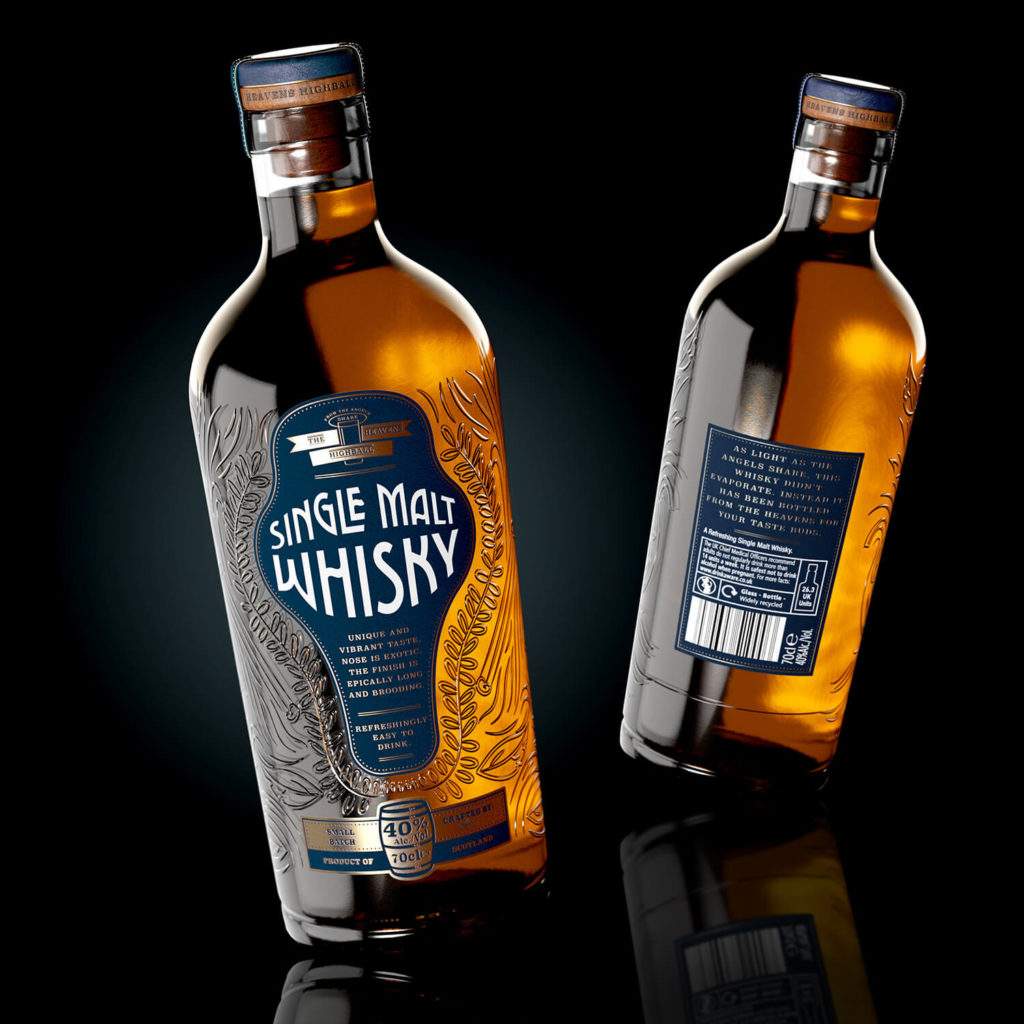 The finished bottle and labels are a masterclass in sophistication and could catch any eye!
The legend of "the angels' share"