About Label Compliance
Your product label is possibly one of the hardest working elements of your product packaging and needs to convey a huge amount of information. This information is not only there to inform customers about key elements of your product, such as allergens and calorie content, but also to ensure it complies with the laws, legislations and regulations of whichever country it is being sold.
Laws change quickly and keeping on top of the latest labelling laws can be challenging! But it's part of the work our team of experts do day in day and day out here at Graphic Brands, which makes us trusted partners for your next packaging project.
Making sure your products conform to current legislations can be difficult to understand, lead to delays in your critical path to launch, add unnecessary wastage for delisted product recalls and with this, increase your carbon footprint.
We can help get this right first time, every time by reviewing your current branding and packaging and checking your product specifications before it hits any artwork house or design agency.
A One-Stop Packaging and Labelling Service
Why go to the effort of employing multiple agencies to handle the various stages in your product launch and to create and print your product packaging when you could use just one?
Graphic Brands offer a full and comprehensive packaging design service, taking brands from a concept or idea through to a fully printed product.
Our team of experts include designers, illustrators, artworkers, CAD teams and printing professionals – we pride ourselves on our specialist compliance knowledge, ensuring this is a consideration from day one of the design process, which saves both time and money.
Our Label Compliance Services
UK Post-Brexit compliance changes
UK and Global Export Compliance
Approved Amazon Certification
Label compliance auditing and pre-assessment
Food, drink, and supplements
Regulatory artwork corrections
Registered claims
Multilingual label compliance
Product label compliance for Amazon including certification
Pet food and pet supplement compliance
CLP and TPD regulation (e-cigarettes, vape, nicotine products etc.…)
Cosmetics packaging compliance
BRC label compliance approval report
GMP label compliance approval report
General brand consultation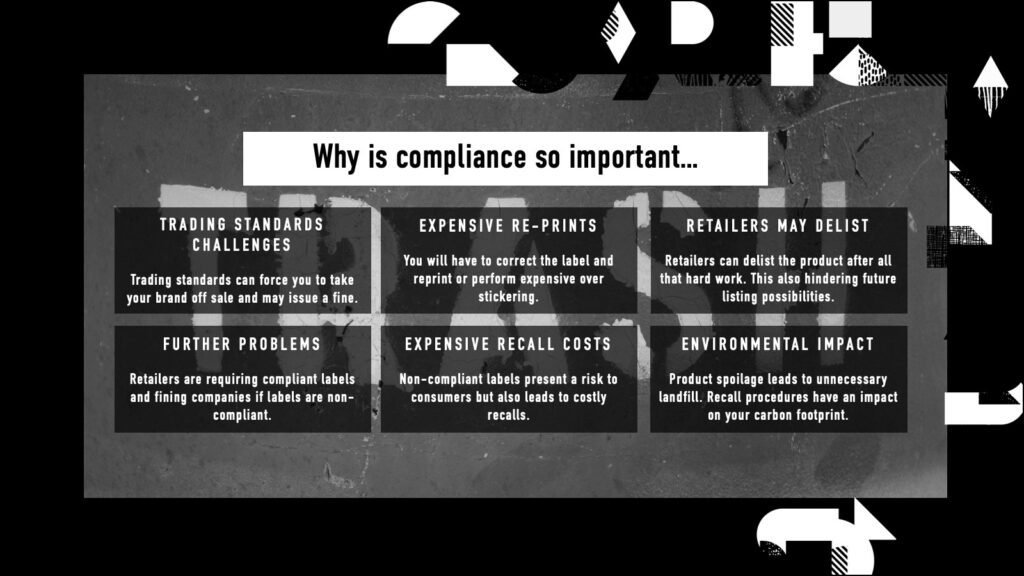 Covering the UK, US, EU, Middle East, Australia, Canada and Japan, our services include:
Efficient and effective workflow and project management
Highly experienced team with decades of industry experience
Cost-effective with high-quality results
Trademark and copyright experts to make sure your brand is safe and compliant
We cover all types of multilingual labels and can adapt them into a design
Artwork Validation
Our team of artworkers will work closely with you to ensure the design, logos, symbols and information tables are aligned with international food packaging regulations – advising and redesigning wherever necessary.
Trademarking and copyrighting
Our experienced trademarking team can advise a broad spectrum of clients across a wide range of industries, including large corporates, small companies and sole traders. We use a network of trusted and experienced Attorneys across the globe with whom we have created an excellent working relationship over many years of working with them.
Disciplines that we cover
Trademarks
Searching before Adoption
Trademark Registration
Design Registration
Copyright
Good Housekeeping
Trademark Vigilance
Patents