Back in the sixteenth century, the notorious English pirate Sir Francis Drake (yes, he was actually a pirate) reputedly buried an amazing cache of jewels and treasures along the Valparaíso coast, Chile.
As far as anyone knows, no treasure has ever been found, but that didn't stop our client from being swept away by this beguiling story of intrigue and mystery.
Costa Tesoro (meaning Treasure Cove) is a rich, full-bodied Chilean red wine that transports drinkers back into the heart of this tale – to a forgotten age filled with myth, legends, and secrets as deep and dark as the ocean itself.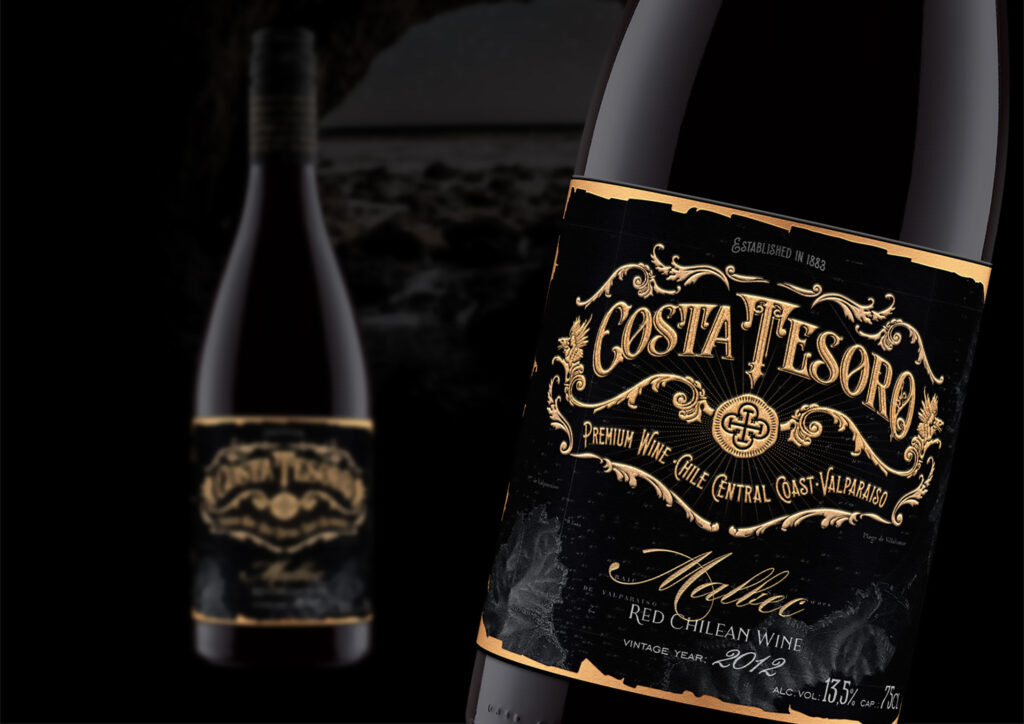 Our brief was to create a premium label that would appeal to a more established wine drinker with a good knowledge of Chilean wine. In response, we designed a bottle that wouldn't look out of place upon the table of Captain Jack Sparrow, below the decks of the Black Pearl.
A black embossed stamp over the top of a treasure map provides the focal point for the label, and echoes the outline of a pirate's manta – the shape of which is associated with the silhouette of a mountainous coast.
Gold embellishments have been skilfully added and include the brand name, along with two elaborate golden Gryphons which guard a monogrammed Spanish coin. The overall look against the dark bottle is one of exotic glamour and luxury, and gives the bottle incredible shelf stand-out.
It's true that a dead man tells no tales, but we can't help but wonder what Sir Francis would think of this Chilean treasure.