Images. We consume thousands of images every day, but have you ever wondered how many of them are computer generated?
With the rise of artificial intelligence and the advancement of rendering software, the capabilities of 3D rendering, and the highly skilled people who create the visuals, has taken a great leap forward.
Often touted as the future of visuals, join us as we take a deep dive into what 3D rendering is, the difference between photography and rendered images, and catch up with one of our very own rendering experts: Andrew Treherne – read on for all of that and some mind-boggling examples!
Define Renders: What is 3D Rendering?
3D renders are widely defined as 2D images made from 3D computer-generated models. They can be used in property development, interior design, architecture, medicine, packaging and more!
Rendering software has developed massively over the past few years, with skilled operators able to make startlingly realistic images.
In the packaging and design world, this allows us to visualise projects and concepts virtually before investing in trialling processes and press runs.
It means that designers and clients can both see a forecast of their project before the final product is created; take our Heavens Highball project, for instance, our team created some fantastic renders for us (we've shared them here if you'd like to have a peek!) to see the potential of the project before physical bottles and labels were produced. The rendering process also allowed us to focus on the finer details of the bottle and labels which would otherwise require intricate photography.
For the FMCG (fast-moving consumer goods) industry, 3D rendering presents a world of opportunities. In a market dominated by those who are able to move quickly, and make things happen fast, 3D rendering can save both time and money in the development process, and create jaw-dropping visuals which would otherwise only be available through award-winning photography studios.
When paired together, photography and rendering can create show-stopping visuals and be a game changer for your business – you'll wonder why you didn't do it sooner!
Spot The Difference: Photography vs 3D Renders
One of the most startling things about 3D renders, is just how realistic a skilled operator can make them look.
We tasked one of our rendering magicians with replicating some of our photography projects…can you tell which image is a photograph and which is a 3D render?
Visual Number 1: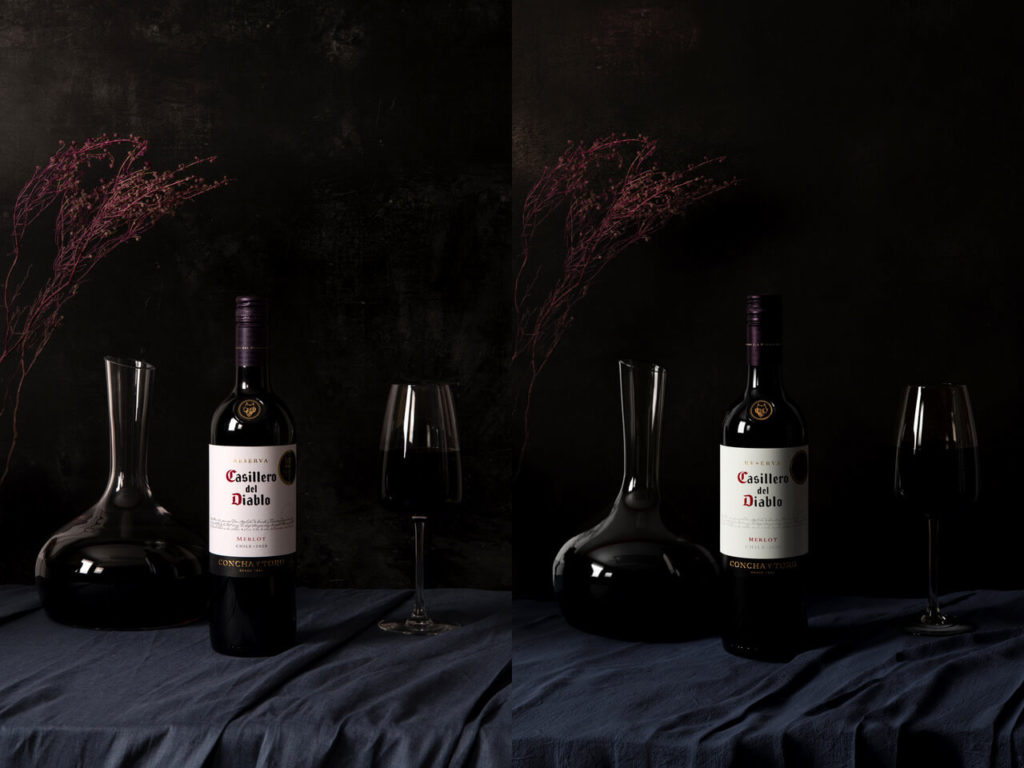 Originally photographed for Concha y Toro UK…could you tell which was which?
The photography is on the left and the 3D render is on the right.
Visual Number 2: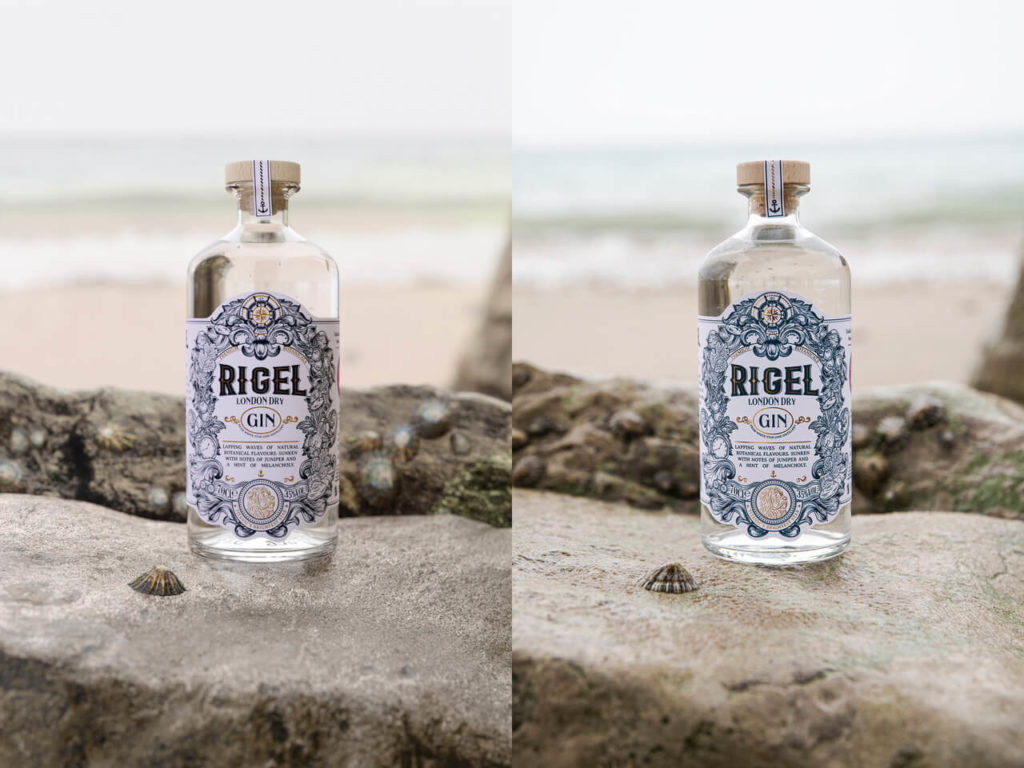 A stand-out design from our brand library, our brilliant photographer, Max, took this bottle on a little trip to the seaside to get some in-situ shots…can you guess which one it is?
The photography is on the right, and the 3D render is on the left, well done if you picked correctly!
Visual Number 3: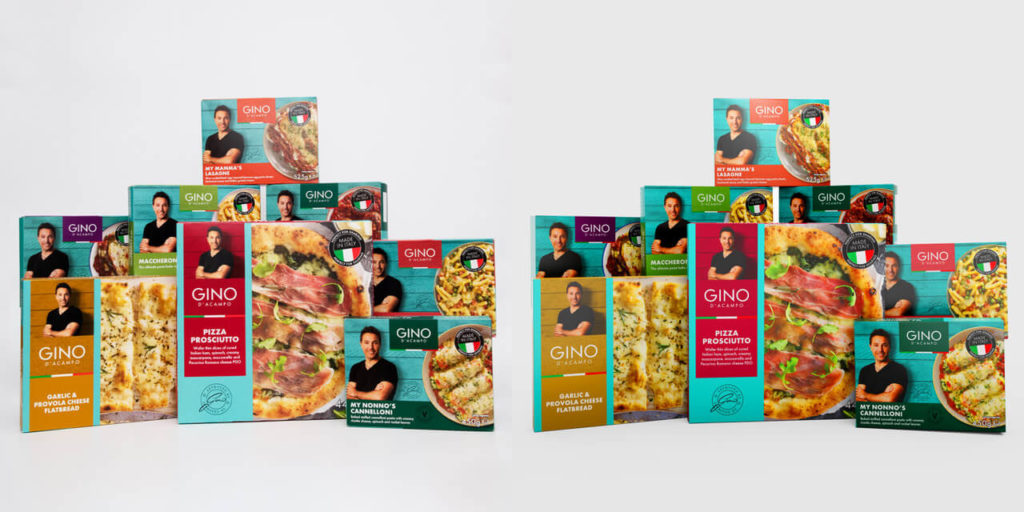 Created for national treasure, Gino D'Acampo, these visuals are pretty like for like!
The render is on the right and the photography is on the left, did you guess correctly?
Rendering tips: Q&A with Andrew Treherne
Now, it wouldn't be fair to talk all about 3D rendering and not give you an insight into what our in-house team do, so we picked the brain of one of our brilliant renderers!
So, Tre, how did you get into rendering?
I've been developing my 2D rendering skills and techniques, using Adobe Photoshop, for over 20 years! Always striving to make my created images as photo-realistic as possible. Then about 5 years ago, I discovered a free 3D program called 'Blender' and decided it was time to step it up a notch and learn 3D. I haven't looked back since! 3D Product Visualisation has become a passion and a hobby, as well as a career.
It's great that you've managed to find a passion and career, what is it that you enjoy most about rendering?
The most enjoyable part of rendering for me actually comes after I've finished something and return to it a while later. I'm then looking at my work with time-fresh eyes. I often catch myself thinking 'Wow! Did I do that?'. Of course, I then spot things I could've done better and become determined to incorporate them into my next project!
That's a good way to keep developing! What's the coolest project you've been a part of?
There's been many but the coolest project I've been part of so far is the upcoming animated renders that we've been working on with FoilCo. Working out how to replicate ultraviolet light and fluorescence in a program that doesn't even know what 'ultraviolet light' is was particularly 'fun'.
And finally, what's your top tip for getting the most out of rendering?
My top tip for getting the most out of rendering? When you get stuck trying to make something look realistic, stop trying to create it as though it's a virtual object and think about how you would do it in the physical world.
Brilliant, thanks Tre!
That rounds up a, hopefully, informative and useful discussion about 3D renders. From how it can be used to save time and money on photography when needed, to displaying how incredible 3D rendering can be in comparison to real photography! Both 3D rendering and photography have their own pros and cons, and the choice depends on the product, timelines, budget and the overall outcome your brand prefers. If you want to know more about our capabilities or discuss a new project, maybe you would like to explore 3D rendering? You can get in touch with us from our contact us page, here!