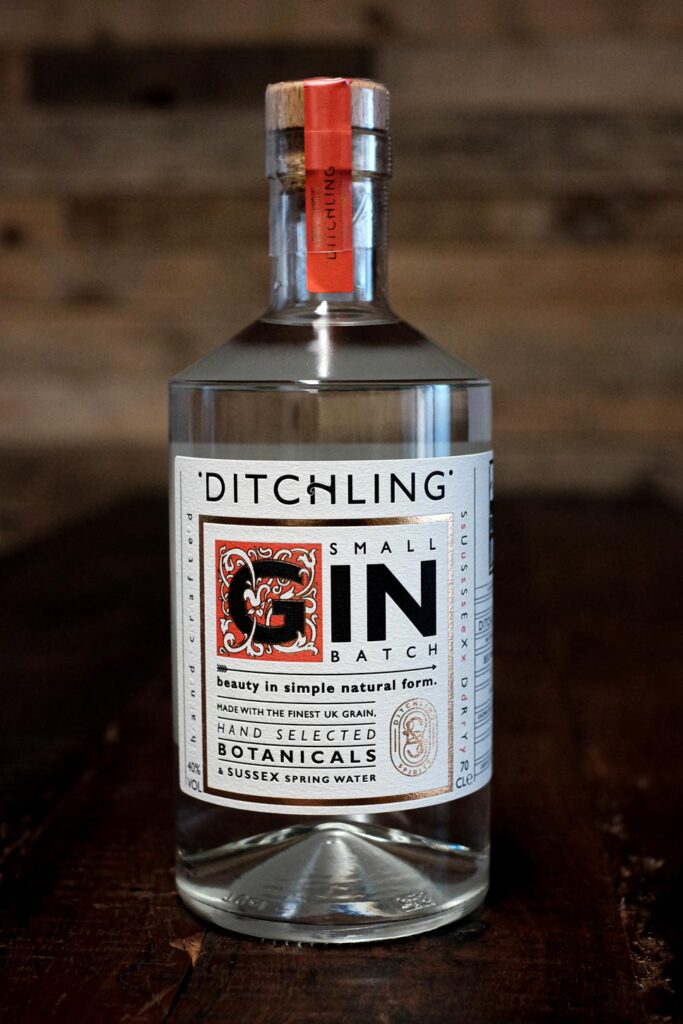 'A spirit to lift the spirit'
Using quality, locally foraged botanicals such as juniper, coriander, and angelica distilled in Sussex spring water, the team created a classic 'London Dry' gin with a rich, smooth flavour and subtle citrus finish.
After rigorously testing the gin with willing locals who kept coming back for more, they soon realised they were onto a bit of a winner! But it was after they were asked to create and supply the gin for the local village ball that they decided to take the next step with the brand, approaching us late in 2018 to help them create something very special.
The team asked us to design a label with a strong Ditchling provenance and an artisan feel; one focussed more on the heritage of the village from which the spirit was borne, and less on the botanicals from which it was made. The new brand needed to have an amazing shelf standout – able to hold its own within a quickly growing market, but still recognisable to consumers. Moving away from the floral-heavy designs commonly used on gin labels was one way to achieve this.
"Beauty in simple natural form"

Crispin Mair – Director Ditchling Spirits
Garnering inspiration from artist, designer, and printmaker Eric Gill who had lived in Ditchling for a short while, we experimented with woodcut prints alongside his most famous 'Gill Sans' font which is considered by many to be a quintessentially British typeface and based on the corporate font of the London Underground.
The finished label is striking in its simplicity, maximizing its impact with a limited colour palette and the use of foil to evoke a sense of luxury. It's both bold and refined and plays on a sense of history with delicate nods to the quality and flavour of the gin itself.
Winner of Harpers Design Awards 2019 – Gold and highly commended | Silver at the International Spirits Challenge 2020 – Design and Packaging award.